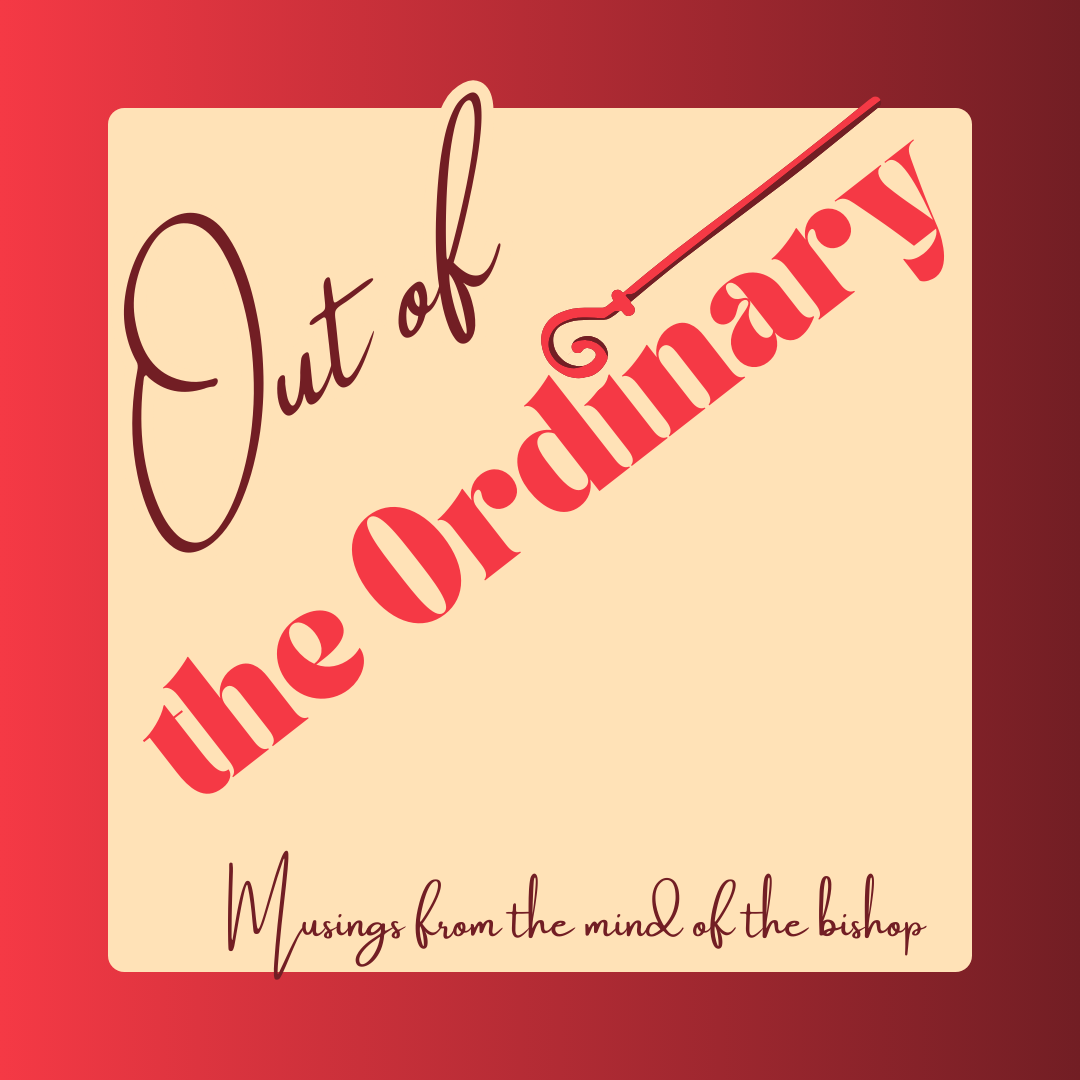 A blessed, and protected, All Hallow's Eve to you all!
A year and a few days from now — November 8, 2024 — I will pass the Bishop Ordinary's crozier to +Alan Hawkins after twelve years of service in overseeing the Diocese. As +Alan, the Diocesan Council, staff, and I work actively on the transition process, I am thinking and praying about many things, and particularly about the public messages I will bring this next year.
In this context, it hit me recently that the churches I visit on weekends embody Gospel mission and ministry in ways that propel me forward and challenge me to think with fresh vision and heart for Kingdom ministry. As a result, a monthly Anchor Lines article in which I can tell the story of a wonderful experience I've had during a recent parish visit, or a new take on ministry I've seen, would serve several purposes. It would be a way to tell the story of God's work among us, to network churches and leaders with one another, and to communicate my own heart during this season of life and ministry.
Witness my recent visit to Christ Church, Winston Salem. A strong foundation was laid from the beginning for thoughtful, practical lifelong discipleship by planting rector, Fr Ben Sharpe. For example, the content and process of catechesis used in preparation for membership and confirmation is thorough and transformative; many churches around the Diocese use that same Foundations course to great effect.
New Rector Benji Davis is building on the church's commitment to make life-long disciples in creative ways. Currently Benji+ and Ben+ (serving in an emeritus position), along with Associate Priest Kelly+ O'Sullivan, are developing a multi-topic ongoing discipleship system to sustain and deepen what began in the original 12-week Foundations course of catechesis. Each topic will be the subject of approximately five weeks of biblical teaching aimed at deepening discipleship. One of those courses that caught my imagination is entitled "Foundations for Christian Dying," created by Fr Ben.
I'm at a point in my life when the finish line is "on the ever-nearing horizon," so I thought, "maybe this sounds so great because it is increasingly real to me." But on further exploration, I learned that the course speaks to people of all ages. After all, every day is a day we do not deserve and none of us is too young to die. Preparing for a good and godly death has been normative Christian discipleship since the beginning (Phil 1:2-22; 2 Cor 5: 1-10). Many historic churches have a graveyard attached, reminding weekly worshippers of the inevitable. Sincere Christians are called to live in light of eternity, shaping our lives every day toward that last day (1 John 3:1-3). According to the Lord's parables in Luke 12:35-48, living well today means living in light of that day, for all of us.
This is not a macabre mindset: it is a freedom we have to live in reality because we live in sure hope of the resurrection, the making of all things new in Christ. Christ reigns victorious over death, and therefore "a good death" – one that looks at it face-on with peace and courage – is on offer for all of us.
At Christ Church, the course "Foundations for Christian Dying" considers a theology of dying rooted in the reality of Christ's resurrection as revealed in the Scriptures. But the training moves beyond conversation into practicalities. Serious discussions about cremation versus burial are normative, carefully protected from overtones of shame but nevertheless exploring the logic of bodily resurrection. Christ Church is working to retrieve Christian practices maintained in Orthodox traditions in which the church, not the distant funeral home, prepares the body for burial – with liturgy, prayer vigils, and worship surround the body of the beloved departed. Alternatives to embalming are legal in North Carolina, so preservation of the body in dry ice are in the works. Christ Church is developing a lay order, the Order of St. Joseph of Arimathea with teams of people who will build simple wooden coffins, open gravesites, transport the body in the context of the church family, and fulfill all practical requirements of funeral and burial. The whole church is called to "be the family" who expresses these final acts of love and celebrates the beloved one in this, their final step of "completing our baptism."
I am captivated by this as a way to explore a Christian final step from this life to the next. It's easy to imagine how a few years of teaching and living according to this deep Christian tradition could shape the life of a parish in profoundly beautiful ways. I wish I had known of this gift the Church brings and had been able to develop such faith and practice on behalf of people I served in the past.
Thank you, Christ Church, for leading the way. If you want to learn more, contact Benji+ or Ben+.
Servus servorum Dei,
Bishop Steve