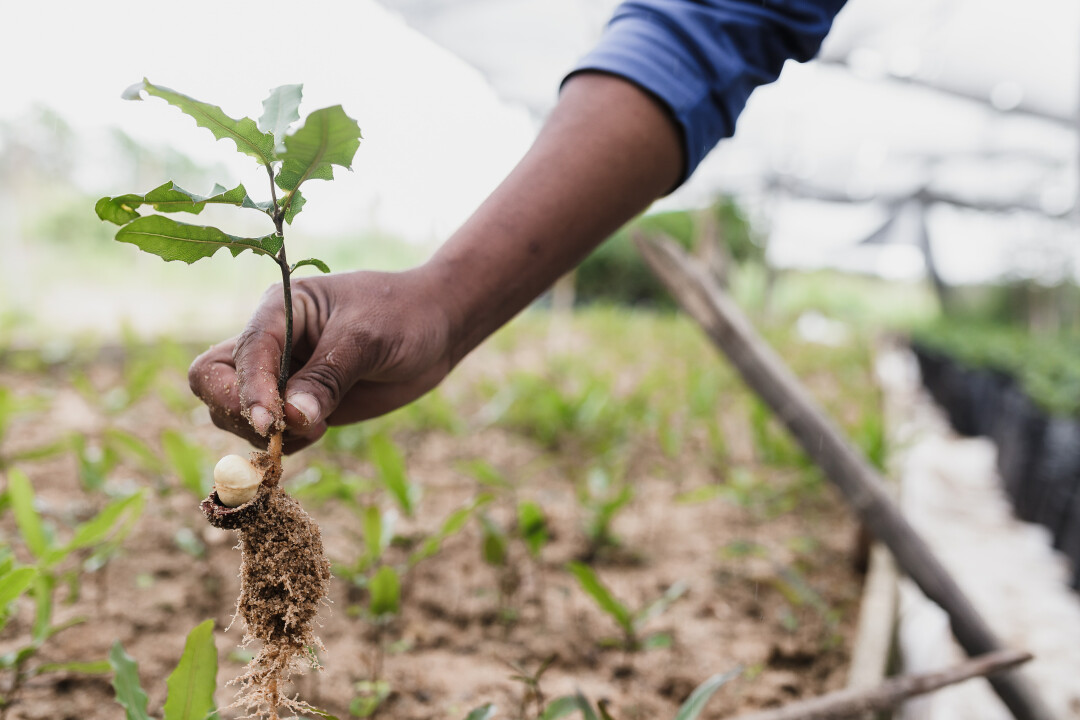 There must be something in the water of our diocese, because there has been a significant increase of conversations surrounding land-use, sustainability, and the parish's role in the renewal of the Earth. This excites me, because it means that we are wrestling more deeply with what it means to be human. Our care of the Earth is rooted in our origin story as God's chosen partners. As the church, we should be the first to think deeply and act quickly when it comes to caring for the Earth God made. Through my experience at the New Garden Farm, my eyes were opened to the significant cultural moment we are in – a moment when the substance and future of an environmental ethic can be formed and reformed by the life of the church.
When Church of the Redeemer in Greensboro began its parish farm endeavors in 2017 (a project I was privileged to be a part of), it was not trendy. It seemed a little nuts… and Lena Van Wyk was just brave enough to take it on. When we broke ground for the garden in Greensboro, we stood and looked at a gravel lot, choked by weeds and scorched by direct sun. A chain link fence created a boundary around the semi-circular plot. Truthfully, it was not much to look at. A few feet of rich soil were brought in and layered on dry dust underneath. We broke open the ground -- dismembered it, really -- to bring light and air and life back into it. Now, a few years later, the plot that began as dry bones has come alive with sinews of expanding fruitfulness. The soil we nourished in its infancy has transformed the life of the parish property. It is strong. It smells of flowers, earthworms, and water's slow nourishing drip from the irrigation lines. Most importantly, the land is no longer as dependent on the parishioners who work it as it was in the early days. Now, no longer on "life support," it provides for the people in the community generously. The people who work and volunteer there every week benefit from the rich life that has been cultivated in that giving and receiving, the reciprocal life of creation and creature. When we heal the land, it heals us in return – providing nourishment, beauty, and delight.
Our origin story tells us that caring for a garden has everything to do with being human. We are made by Yahweh from dust. We are placed in a garden in Eden and given the command to care for it, tending to the land and the animals as our first task. As Yahweh's vice-regents, we were meant to represent Him, delighting in what He has made. We grow families, neighborhoods, and cities -- this is what it means to be fruitful and multiply. Our Genesis story defines us as genesis people - beings from whom life originates, both in reproduction and in our tending to the world God made. However, Genesis 3 tells us that the first humans chose to go out on their own, to define good and evil on their own terms. In doing so, they fractured their relationship with all good things. Thanks be to God; this wasn't the end of the story. Scripture leads us faithfully to the person of Jesus. Jesus is the new humanity, the second Adam. In His life, death, and resurrection, He revealed Yahweh's purpose – that we might come home, into communion with ourselves, with the Earth, and with the Creator.
We become more human in service to Jesus, not less. He leads us in the victory march of renewal for all things. And that is how this story will end: we will once again rule the Earth, which has been subject to our abuse, now participating in its healing! We are not leaving our creatureliness behind. In Jesus, Yahweh revealed a new heavens and new Earth, materiality intact. Our spiritual life and material life will once again be reunited fully. We will be imitations of the resurrected Lord Himself: a fully human body transfigured by death's demise, marked by our human stories, yet mysteriously perfect. The kingdom of God is even now coming down, joining with Earth. Where followers of Jesus are, there is true humanity, and the space between heaven and earth is very, very thin. As Yahweh's people, we offer the way back to the garden, back to our original purpose. And this means that what the church chooses to do with the land He gives us – right here, right now – tells the world that story.
---