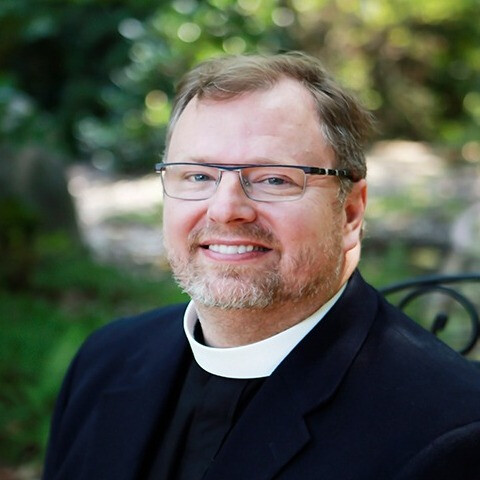 Rev. Cn. Alan Hawkins
Rector, Church of the Redeemer - Greensboro, NC
I was born in 1970 in Wichita, Kansas, but was raised most of my life in Perry, Oklahoma. My parents have three children of which, I am the youngest. Neither of my parents were churched people when they married. Early in their marriage, my parents met a pastor and they became friends which drew them to attend church. They started attending a Missouri Synod Lutheran church in our town in Oklahoma, where I was baptized at age five.
I do remember vaguely being baptized and attending a Church school until second grade. I would articulate that I had a God formed worldview as a child and that was a part of my life at the time. At age ten, I stopped attending church and rarely found myself in a church setting.
I spent most of my teens and high school years living under two "beliefs": There is a God and there is Jesus and 'they' (God and Jesus) wanted me to be good and kind. My Senior year in High School, a new pastor in town took an interest in me because his son and I played sports together. After I graduated from high school, he saw me on my Christmas break from college and shared the gospel with me. I'll never forget the moment and the place I embraced the gospel. I had been longing to hear this 'all my life'. I longed to know peace and to know love. In 1989, I was introduced to the most amazing man ever to live, Jesus, and my life changed eternally.
I got involved in a college ministry called CRU, and I grew as a disciple of Jesus. I learned to pray. I learned to read the Bible. I learned to live the Spirit-filled life. Many of the things that formed me back then are still influencing me today. I was taught how to serve others and how to listen and care for others spiritual needs. What became clear to me during this time was the tension and battle of living with the spirit versus living for the flesh (Romans 6 &7).
I met Angela Kaye (AK) during my senior year at Oklahoma State. This amazing Texas girl who had moved to Oklahoma to serve on staff made quite an impression on me. My last year in college, we dated and fell in love. We were married in the summer of 1993, I came on staff with CRU and shortly after we started serving in full-time Christian ministry. We welcomed our first child, Joshua, in 2000. He is finishing his sophomore year at the University of North Carolina Chapel Hill studying Peace, War, and Defense. He is a Marine ROTC student and involved as a youth ministry leader at Holy Trinity Anglican Church under David Hyman. Emily was born in 2003 and is finishing her senior year of High School. Emily is one of the kindest, most remarkable people I know. Athan was born one month before we moved to Greensboro (2006) and is a very naturally talented athlete. Ciaran was born in 2007, and is a bright, friendly, and very mature young man. Our last child, Ryan was born in 2010 and is a sports data fanatic and a future veterinarian. He is also a Clemson fan.
We have lived in Oklahoma, Texas, and South Carolina, but have spent the last 21 years in North Carolina. We love this state and are thankful the Lord has called us to serve here. Greensboro has surprisingly become a place we dearly love. Our children were raised here and the deep friendships and community we have formed have been a major reason we have stayed.